Choosing a Lace Front or Non Lace Front Hair Topper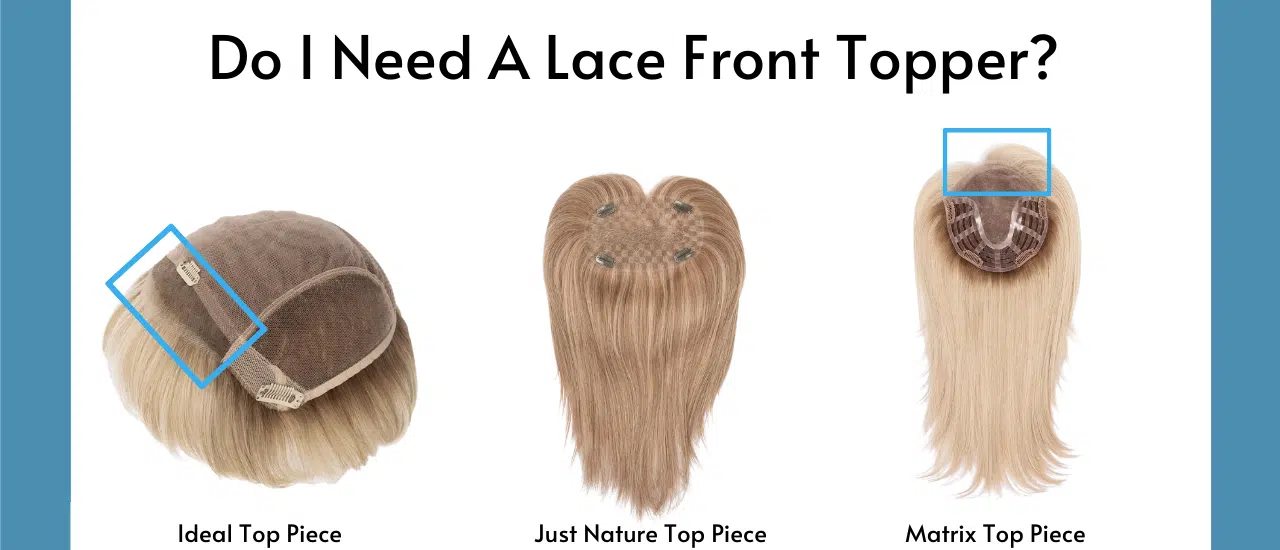 Wigs and hair toppers come in a variety of styles and cap constructions. One popular feature of wigs and hair toppers is a lace front.  In this article, we discuss what to consider when choosing between a Lace Front or Non Lace Front Hair Topper.
What is a lace front hair topper?
A lace front hair topper is a hand-tied section of hair on a transparent (or sometimes tinted) fabric that is intended to give the appearance of a natural hairline.  The lace blends in with your skin and gives the illusion that the hair is growing right out of your head!
In this video, we show you what a lace front looks like, why you might choose a hair piece with lace front and how it can give a more natural looking hair line when wearing a hair topper or a wig.
With  so many options available, it can be difficult to know whether or not you need a hair piece with a lace front.  Here are 2 considerations to help you decide!
Will you be styling your hair off of the face?
A lace front will give you flexible styling options. It allows you to sweep the fringe area up and off of your face for an updo, or just to clip the hair back.  This may require the use of adhesive so that the lace stays flush to the forehead, but this depends on how the piece fits each unique head.
You may be able to do this with a non-lace front piece, but this depends how much hair you have.  If you have enough hair to cover the "transition" space between the natural hair and your topper, you may be able to pull the hair back.
Do you have a receding or sparse hairline?
Since toppers are meant to blend with your natural hair, it is most common for wearers to situate the piece at or just behind the natural hair line.  However, with a lace front piece, the topper can be pulled up in front of a hairline that is receding or thinning.  It will give a very realistic appearance which is why many who have thinning in this area opt for a lace front.
Choosing a non-lace front is still an option if you have a sparse hairline, but it may take some finessing to get the blend right.  There are products available, such as hair fibres and scalp concealers, that can help to mask the "transition" space where thinning biological hair and the topper (or wig) meet.
If you have a strong hairline to blend with a non-lace front piece, nothing will look more natural than the hair that is growing out of your head.  Brush some of your biological hair forward; place the topper just behind your hairline; then brush your hair up and into the front of the topper to blend and voila!