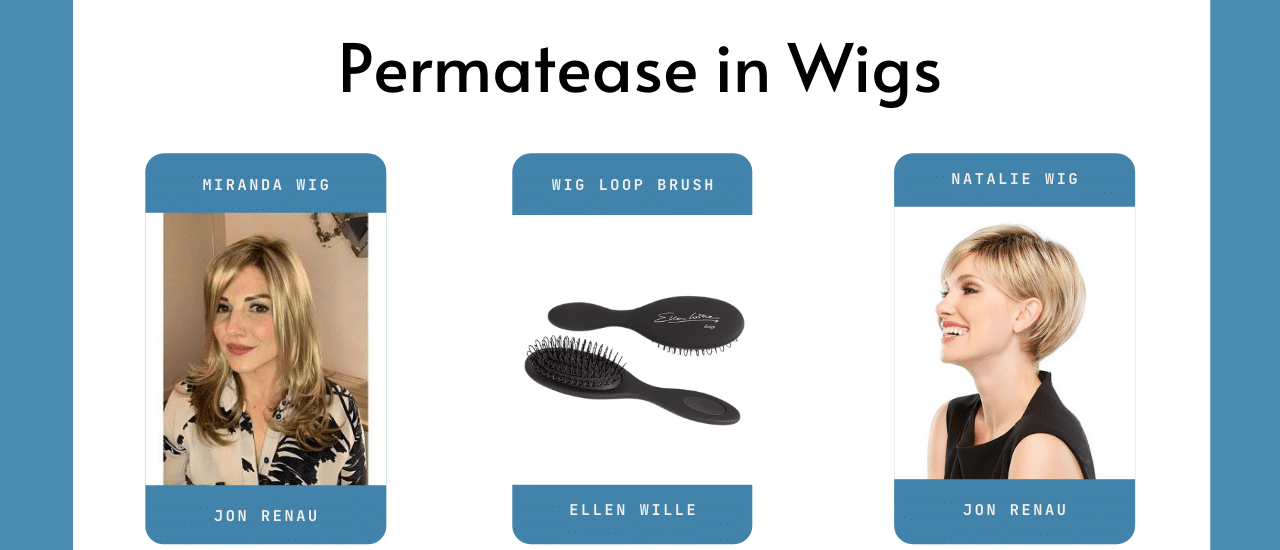 If you are new to the wig world you might hear about permatease in wigs and wonder what that really means. Jo at @Baldmothertucker and Ariel from @HairWeavon_com got together on our Instagram for a LIVE conversation all about it. Read on or watch the live below to learn all about what permatease is, why it is found in some wigs and how to best style it.
Depending on your style, you may find yourself loving or hating permatease. However, don't jump to hating it. Permatease has a purpose in wigs and can be used to your benefit. It is generally found in a more basic cap construction. Something with machine wefting, especially at the top, will most likely have some permatease. Because there is no monofilament or lace on the top of these wigs, the permatese fills in the gaps where you would naturally see scalp, thereby disguising the cap underneath. It also has the purpose of adding volume.
Permatease adds a back-combed or teased look which can sometimes scare away the wearer. However, there are a few tips and tricks to styling this to suit your style better.
Permatease is found at the roots and closer to the part and crown area. This adds volume in the best areas for a freshly blown out style. The Miranda Wig by Jon Renau is a great example of a style with permatese that adds volume. Jo styles her Miranda by giving it a careful yet firm brushing. This helps all the fibres and permateas lay flat and tame the volume just enough.
Natalie by Jon Renau is a basic cap construction that does come with permatease as well. Jo applies the same treatment to style, a firm brushing. Then for this pixie style, she finds the Jon Renau Piece Out Contour Cream to be useful. A small amount of the cream can be used to direct the fibres to move and lay flat in the areas you prefer. If you still find the wig to have too much volume you can always give it a wash, even fresh out of the box. As it is drying, comb the style to your liking and it will dry in that shape. For even more style hold you can use a wig steamer. This can add a low amount of heat to the synthetic fibres to help train them even more.
Once you learn how to style your permatese wigs to your liking, you will find they are actually nothing to be afraid of. If you are in the market for a more affordable synthetic wig, you should look for something with a basic cap and permatease. Hopefully, with these styling tips in your back pocket, you will be able to find some fun and cheap wigs to add to your collection.
Don't let permatease scare you away from a great wig. It has a function in wigs and can be styled.